22
Toolbox
Availabilities
| | Wk | Mo | Tu | We | Th | Fr | Sa | Su | |
| --- | --- | --- | --- | --- | --- | --- | --- | --- | --- |
| 2018-10-01 | 40 | 8 | 8 | 8 | 8 | 8 | 0 | 0 | 40 |
| 2019-01-02 | 01 | 8 | 8 | 0 | 8 | 4 | 0 | 0 | 28 |
Indicate how many hours per day you have available starting at different dates.
Days off
6
Mark when you are exceptionally not available.
Compute your availabilities over a period of time.
48 6 • 17-dec-2018 → 31-dec-2018 15 days
From 17-dec-2018 till 31-dec-2018, 15 calendar days, you are available 48 hours spread on 6 days.
Schedule
Thursday December 20, 2018 at 09:05
20-dec-2018 → 24-dec-2018 •
5 days
Sm
12-20
51
12-20
4
0
1
0

Training

12-20 4
51
12-20
4
33
1
0

Read client contract

12-20 4
12-21
51
6
100

Write TOS

12-24
52
12-21
10
0
2
6

Project design

12-21 8 → 12-24 2
To follow the example of the successful time management of a busy week, click here.
Timeline
Today
8 h
4 h • Training
4 h • Read client contract
Monday
5 h
2 h • Project design
3 h • Christmas shopping
Busy days
Moving the mouse over a bar or clicking a bar displays the date and the total load of a day, the list of the tasks with the number of hours to do.
Free time
Moving the mouse over a bar or clicking a bar displays the date of the day and the number of hours available.
Dialog
Validation of the client contract after approval by the legal department.
Cover
The cover image of a task, like a logo or a poster, makes it easy to identify it in the chronological list of tasks or in the result of a search by keywords.
Wall
Drop images and PDF, Windows or LibreOffice documents on a wall to associate them to a task and retrieve them in 1 click.
Editing
Edit a Windows or LibreOffice document deposited on a wall directly in your navigator with Collabora Online.
Audio
Record a message or upload an audio file.
Vidéo
Insert a video on YouTube.
Journal
Write a complete journal with a neat presentation. The editor lets you format your text in paragraphs, in columns, add titles, use icons by Font Awesome, insert clickable images, links to external documents, an audio, a video on YouTube, charts and Post-its, a Google map, etc. With a little practice, possibilities are surprising.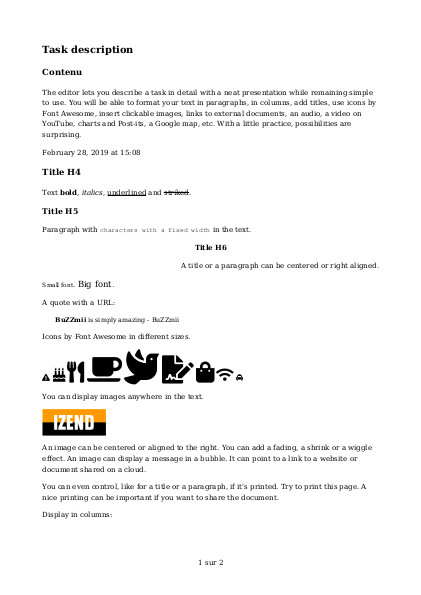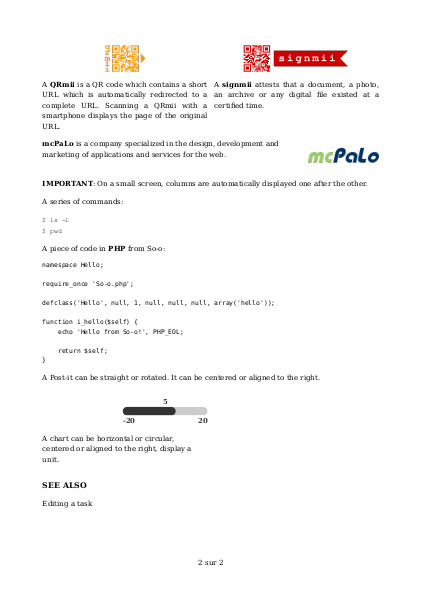 SEE ALSO